One of the beauties of the open and free nature of Android is that it allows the creation of very affordable devices. The Chinese manufacturer MIPS technology seized this opportunity and created the NOVO7 – a 7″ Ice Cream Sandwich slate that only costs $99.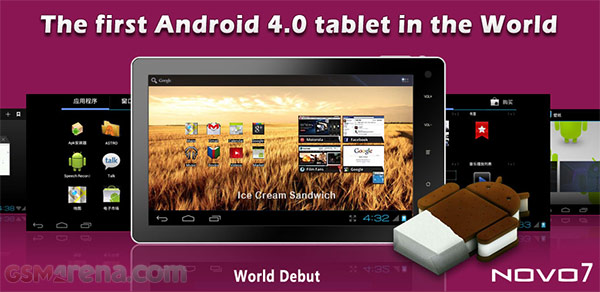 With its 1GHz single-core CPU and 444 MHz GPU (of unknown kind), the NOVO7 will hardly be a benchmark champion, but that's hardly its purpose. What matters is that it comes with a capacitive touchscreen (most ultra-cheap slates still use resistive screens), and can play all kinds of video formats up to 1080p resolution.
It's battery is said to last for 6 hours of gaming (Gameloft's Spiderman comes preinstalled by the way), 8 hours of video or 7 hours of browsing. Plus the 2 megapixel main camera and the front-facing snapper of unknown resolution are better than what the iPad 2 can offer, right?
There are a couple of bad news, though. First, MIPS Technology hasn't mentioned anything about the resolution of the NOVO7, which leads us to believe that it makes do with WVGA. And also, while the $99 price tag is really attractive the $60 shipping is spoiling it a bit. Still, $159 for an ICS tablet is not a lot now, is it?
Source