Dropbox released version 2.0 of their Android app and it promises to make the mobile experience much, much better. Storing files offline, bulk uploads and Ice Cream Sandwich support are just a few of the changes that the new version brings.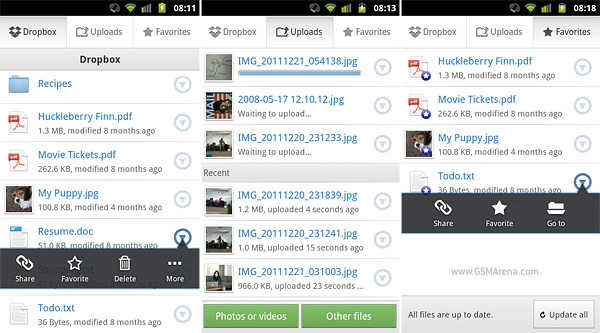 Dropbox 2.0 uses a tabbed interface and one of the tabs is Favorites – files marked as such will be stored on the phone for offline use (Dropbox for Android typically doesn't store files in the phone's memory).
You can also upload multiple files through the Uploads tab, which was reworked to make uploading images and videos easier with an improved Gallery view. Bulk uploads happen in the background (as long as you have background data enabled) so you can do other stuff, until they are done.
Here are the rest of the changes:
Ice Cream Sandwich support: Optimized for the newest and tastiest Android release yet: Ice Cream Sandwich.
Single-tap access to actions: All file and folder actions are available from a single tap.
Lots of others: Export to (and upload from) local storage, as well as numerous bug fixes and stability improvements
If the 2GB of storage you get for free from Dropbox aren't enough, there are several ways to expand it for free. For example, students with .edu emails will get 500MB per referral instead of the usual 250MB. Check out the rest of the ways to
get extra storage
.
You can grab Dropbox v2.0 for Android
from the Market
.
Source
Read More