It seemed that Samsung has forgotten all about its LeFleur lineup of female-targeted phones, but as it turns out they were simply flying under the radar. We just stumbled upon a LeFleur edition of the Samsung Wave Y that is already on sale, but we have never seen before.
The Samsung Wave Y S5380 LeFleur surfaced on a Ukrainian online store's website and it costs just $165. Judging by the specs on the handset's listing page, there are no functional differences between the LeFleur and the original version.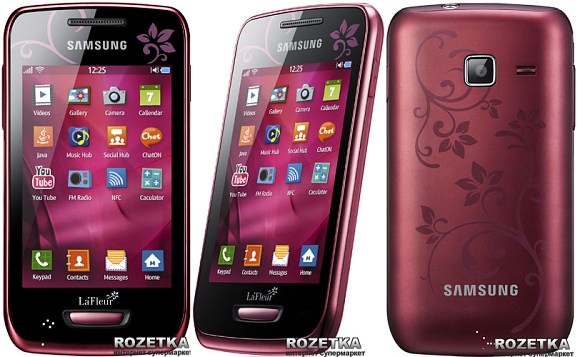 Still, the nicely decorated purple back and the accents on the front will probably be enough to win the Wave Y LeFleur plenty of fans among the ladies, and with Valentine's day just around the corner that might work out quite well for Samsung.
Unfortunately, there's no official information about the Samsung Wave Y LeFleur availability outside Ukraine, so we are not sure if you'd be able to get it at your local store. We'll be keeping an eye on it though and will make sure to keep you up to date if more info pops up.
Source
|
Via