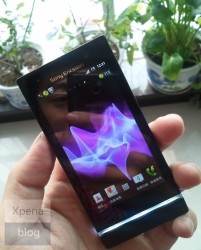 The Indonesian equivalent of the US FCC has given us the retail name of the rumored Sony Ericsson ST25i Kumquat. It's listed under the name "Sony Ericsson Xperia U", though by the time the phone is officially unveiled, we're sure that will have changed to just "
Sony Xperia U
".
That's all the new info available on the handset, but we expect to see the Sony Xperia U at the MWC in about a month. The
LT26i Xperia S
is also listed among the applications for certification, but we already know this one.
Anyway, you can brush up on the specs that the Sony Xperia U is expected to have in our rumor mill.
Also, with models named Xperia S and Xperia U, we can't help but wonder if Sony is considering a new naming scheme. We guess we'll have to wait until we find out how the
Nypon
and
Pepper
will be called officially.
Thanks to Giovan for the tip!
Source