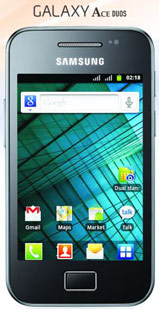 Samsung keeps extending its Duos lineup and today we learned the popular Galaxy Ace is the next smartphone to grow an extra radio. The Samsung Galaxy Ace Duos went official for the Indian market.
You should keep in mind that the Duos part here doesn't mean a second SIM slot as it does on most other Samsung devices. Instead, the Samsung Galaxy Ace Duos will come with GSM
and
CDMA support, making it a truly global phone. You can still have two subscription plans with this one, but only if your country has both CDMA and GSM carriers.
The Samsung Galaxy Ace Duos will be mostly identical to the
original Galaxy Ace
, but it will get a larger battery to make up for the second radio. Instead of the 1350 mAh unit found in the original Galaxy Ace, the Galaxy Ace Duos will have a 1650 mAh Li-Ion battery. It's unclear if the new battery will be compatible with the original smartphone, though.
The Samsung Galaxy Ace Duos will retail for INR16,900, which translates to about €260 or $340. We don't know if Samsung has any plans of bringing the smartphone to Europe or America, but we should learn more about the company's plans soon enough.
Source