Yet another
alleged live photo
of the upcoming Samsung Galaxy S III flagship leaked yesterday, but the guys from
Tinhte.vn
got their hands on just that device and shot an informative video that reveals a lot about the phone.
It's important to note that the device shown isn't the final design - it's just a sort of test mule, with all the hardware packed in a box to let the carriers test it. This was done to prevent any leaks of what the final device will look like.
Here's the video in question (it's in Vietnamese, but there are English subtitles):
The hardware should be identical though and the video shows Android System Info running on the phone, so it reveals several key specs. The first is a Samsung-made quad-core processor running at 1.4GHz, a Mali-400MP GPU (same as on the current Galaxy S II) and a screen with 320ppi pixel density.
The screen has 720p resolution, which works out to a 4.6" diagonal with the quoted density (seems about right judging by the part of the video where the Galaxy S III is put next to a Galaxy Nexus). Part of the screen is reserved for ICS-style on-screen controls. The screen should be a Super AMOLED unit, though we don't know if it's a Plus or not (if it uses PenTile matrix or a conventional RGB one).
A look at the back of the device reveals a microSD card slot to expand the 16GB of built-in memory. Next to it is a SIM slot of about the same size, so the Galaxy S III should be using the microSIM standard. The battery has an ample 2050mAh capacity and the phone will support NFC connectivity.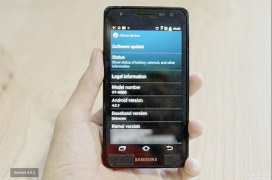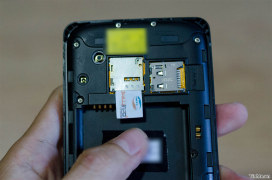 Photos of a Samsung Galaxy S III test unit
The camera interface on the Samsung Galaxy S III (if that's even its final name) reports a maximum resolution of 8MP and not 12MP as earlier rumors suggested. This could be just a software limitation, but there's no way to know for sure, at least until the official announcement comes.
That is expected to happen
on May 3
, when we should see the final design, name and specs of the Galaxy S II successor.
Source